This property is no longer available, please contact us if you would
like a local referral. rwerner@endlesssummer.us
Lower Keys Vacation Cottage
Enjoy true "Key West" living. 7 Days, 6 Nights
(9 Days 8 Nights also available, see below,
read below for information on how to reserve your specific date.)
Everyone will enjoy this tropical retreat; Scuba dive, fish, lay out, go to the beach, explore Key West,
feast on the great local food, shop, drink at the "locals" bars or just relax.
Dockage and ramp for your boat!

Nice cottage 1 Bedroom, 1 Bath set back from open water. Near mile marker 28, you are about as close to Looe Key reef as you can get. Very close to Bahia Honda State Park, the nicest beach park in the area (better beach than any in Key West). Nature walks and the "Blue Hole" (with alligators!) a few miles away. Great Tiki bar and 3 dive shops near by, and great dining very near by. Short scenic drive to Key West or Marathon(22 or 26 miles). It is a beautiful drive with water and island views on both sides the entire way.

Photo taken at a reef known by very few people
11 miles from the apartment.


The Sunset returning home from a day on the water.
This is 6 miles out into the Atlantic, a beautiful flat calm day.

We have had 100% satisfaction from our guests that have stayed with us in the past.
Although this is a new (to us), separate property, we expect the same level of satisfaction.
These accommodations are offered below market value.
This property is not as nice as our apartment vacation rental, it is a bit more basic, less refined. Please ask any questions.
This property is a short boat ride from "Picnic Island" which is a popular hang out on the weekends and usually very private on the weekdays. You can only get there only by boat and it is a great place to swim, cook out, or just hang out.
Apartment Features:
Full Kitchen

Screened patio with dining table.

New queen size master bed.

Grill to cook your catch or local seafood (We know the best to buy from), or burgers if you must :)

30' of dock available for your boat plus ramp on property.

Air Conditioned

Pots, pans, silverware, plates, glasses, ect.

Smoke detectors tested weekly

Cable TV
WiFi available next door
Sleeps 2. Fine for 2 people, 4 people should be good friends or family.
Beautiful outdoor relaxing areas on the dock by open ocean.
This property has just become available and is being prepared and having the bed & TV put in this week.
These photos were taken before it was finished.

| | |
| --- | --- |
| | |
| | |
| | |
| | |
| | |
| | |
| | |
| Beautiful Sunrises ! | |
| | |
We know Key West and the surrounding areas very well and can help you know where to go and when. We are happy to help make this your best vacation, or just let you figure it our for yourself if you wish :)
FANTASTIC fishing, scuba and snorkel! We are about as close as you can get to the best reef in all of the Keys, Looe Key. It has made all of the top ten scuba diving lists in the past ten years. There is also a protected bay that is perfect for the small craft we have in almost all wind conditions.
Plus, I have been scuba diving since I was 12 and made over 700 dives on the reefs and wrecks in the surrounding waters, therefore I can offer:
Free use of scuba tanks and weights if diving with us**

Go out with local charters which is a couple miles away or join us on our 27' or 32' boats

(our boat)

. **Please ask for details. Local dive boats are available for about $75/pp or private charters for $250-$550 per trip. (

sample photos here

)

Free use of 24v Dive Scooters if going out on our boat.

Only 8 miles from Looe Key - 9 from the Adolphus Busch Wreck - 14 miles from American Shoal.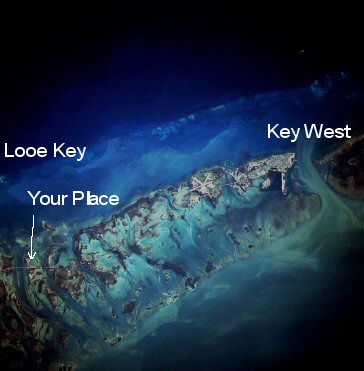 This is a lot of reading but we like to be VERY clear. Please feel free to ask ANY questions :)
Reserving Your Date - Please email me to see if your date is available. Your bid will be good for any week in white below (Week normally runs Sunday - Saturday. Please ask if you want an odd week). I will post booked dates here as they book. If you email me with your desired dates, I will guarantee those dates for that auction. We VERY often have people have their desired dates booked while they are thinking about it, so we recommend getting your dates guaranteed for the auction.
Peak Season/Normal Season Rates This auction is for any off peak season, non Hoiday week. August 17th - Dec 21st.
If you want peak season, Dec 21st - August 17th please ask. We will add only $100 for any peak season week.
Please also add $100 to the winning bid for premium/holiday weeks which are:
Fantasy Fest
Christmas Week
New Years Week
4th of July
Memorial Day Week
Lobster Mini Season (End of July)

Please note: You can usually extend you week by 1 day at each end, making it check in on Saturday and check out on Sunday (9 days 8 nights). Check in is 3pm, check out is noon. We only charge $50.00 per night extra night fee (for up to 2 extra nights). Please inquire about desired dates and we will let you know what is available.

White is available, Green is unavailable. We are now booking through July 2009.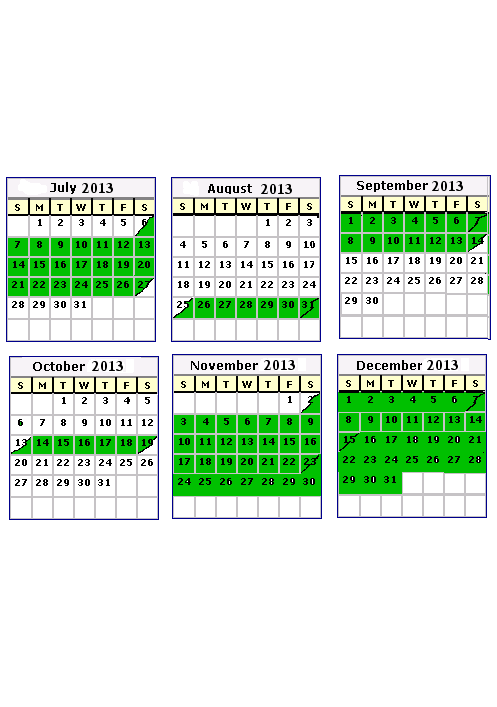 Rental Term/Smoking/Refund - Rental is for 6 nights and 7 days. No refund for late check in or early checkout. Cottage is smoke free, but smoking is allowed on property. Since we only have limited rentals and no walk ins, we offer a full refund if you cancel 60 days in advance minus Ebay and PayPal costs. If we can re-book canceled dates there is always a refund no matter what the time frame is. We are very easy to work with.
Additional costs/options - The cottage is fine for 2 people. It can sleep 4, (if you bring an air mattress) please see the layout shown below.
If you are renting an peak season week, we will add $100 to the total, as described above.
There is an additional charge for premium/holiday weeks (Christmas etc.) as described above.

There is a $100.00 cleaning fee for all bookings.
We charge an additional $50 per person for a third or fourth person, regardless of age.
Our 12' boat with 15hp engine can be used by our guests we just ask for a $40/day gas/oil/cleaning fee. Subject to availability.

We require a $500.00 deposit in the form of a personal check (or cash) that can be returned to you at check out, if there is no damage to the apartment. We have never kept a deposit and hope to never have to.
Pets - 1 pet, maybe 2, can be allowed under most circumstances, please email to inquire before bidding. There is an additional fee of $50 per dog per week cleaning fee. Please bring your own towels/blankets that the dog will lay on if on furniture. We ask that you email us with the pet description for approval. Current rabies certificate required and the pet will be checked upon arrival for fleas or ticks. A pet with fleas or ticks will not be able to stay on the property. You will be expected to poop scoop daily. We have all tile floors and the apartment is cleaned and sanitized after every visit.
Boats - If you want to bring a boat, you can dock it directly on the property and there is also great boat ramp. There is a $50 per week fee for water/electricity and property wear and tear. Please email us before bidding to let us know what size/type of boat you would like to bring.

Payment - We accept all credit cards directly, or personal checks through PayPal. At least 50% is due within 2 days of auction end in order to reserve your dates. The balance may be paid upon arrival (in cash or PayPal only).
Once we receive the deposit you will receive a confirmation web page with your date confirmation, balance due (if any) area information, recommendations, directions, phone numbers for us etc. This page has very valuable area information.
We are about 26 miles from Marathon and 22 miles from Key West, just a few miles from Bahia Honda State park and right off of Looe Key. Many people say this is the best place to be in the Keys because we are so close to Looe Key Reef and Bahia Honda, yet still close to Key West and Marathon. The property has a very happy and positive feel and we are very pleasant people to deal with. We welcome the same and discourage negative people from bidding on this auction. A place this fun doesn't appeal to people looking for drama. :) Please do not bid if your feedback rating is less than 90%, you may ask us to approve your rating if there are special circumstances. Please email us through eBay if you have any questions or want to reserve a date, or email us your phone number and we would be glad to call you and answer any questions. We welcome any questions, especially during your stay. Most of our guests have commented that the advice we can give made a huge difference in the great time they had. The last thing you want to do is use trial and error when you have just one week! BUT... We only offer advice when asked :) We have never had a complaint of any kind.
Soon we will not be advertising on eBay and will only accept return guests and their referrals.
:)
| | |
| --- | --- |
| Matt & Erin Our first guests | "I had an absolute blast. I think most people that head to Key West, and the surrounding area, do not get to experience a fraction of what we did. Most people would have probably seen far less and spent even more. I know that both Erin and myself enjoyed every day." |
Legal Stuff - I reserve the right to not allow use of the scuba tanks, scooters or watercraft if I feel there is a safety issue nor can I guarantee their availability if there is a mechanical breakdown. Renter agrees use of items available on the premises is optional and will assume all liability to person or property for use of any recreational items, and in addition if any item is damaged or destroyed, to pay full damages, replacement, or repair costs. Children must be supervised by an adult at all times. The property is carefully inspected for safety and the visitors are expected to conduct their own inspection upon arrival and therefore agree that they are solely responsible for their own safety and welfare during their stay and agree to hold the property holders harmless for any and all liability. By bidding on this auction you agree to all terms listed herein, and that all members of your party will be made aware of, and agree to, all terms and agreements.